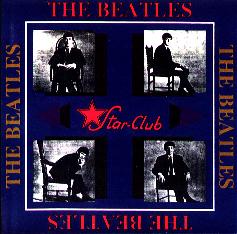 Star Club
hamburg, Germany, 1962 - lun - aud2/3

Track List:
1) Introduction
2) Gonna Sit Right Down and Cry (Over You)
3) I Saw Her Standing There
4) Roll Over Beethoven
5) Hippy hippy Shake
6) Sweet Little Sixteen
7) Lend Me Your Comb
8) Your Feet's Too Big
9) Twist and Shout
10) Mr. Moonlight
11) A Taste of Honey
12) Besame Mucho
13) Reminiscing
14) Kansas City - Hey Hey Hey
15) Where Have You Been All My Life
16) Hully Gully
17) Till There Was You
18) Nothin' Shakin' (But Leaves On the Trees)
19) To Know Her is to Love Her
20) Little Queenie
21) Falling in Love Again
22) Ask Me Why
23) Be-Bop-a-Lula
24) Hallelujah I Love Her So
25) Sheila
26) Red Sails the Sunset
27) Everybody's Trying to Be My Baby
28) Matchbox
29) I'm Talking About You
30) Shimmy Shake
31) Long Tall Sally
32) I Remember You

Note: During the Christmas season of 1962, the Beatles played one of their very last sessions at the Star Club in Hamburg, Germany. During this period they were recorded on amateur equipment by one Ted 'King-Size' Taylor, also a Liverpool musician. This disc contains most of the recordings as eventually re-discovered and released - legitimately- in 1976. Although certainly VERY rough recordings, this is the best chance to hear the Beatles as a bar band...within less than a year, they would be international stars.