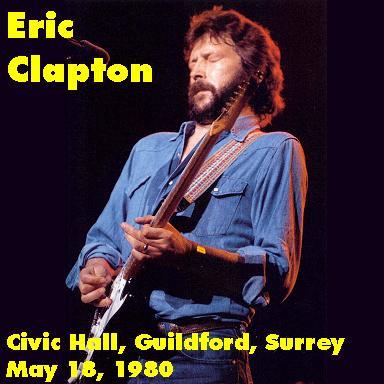 Eric Clapton - UK Club Tour 1980
Civic Hall, Guildford, Surrey - May 18, 1980 - CD-R2 - 66:34/36:26 - Aud 3

Disc 1:

Tulsa Time
Early in the Morning
Lay Down Sally
Wonderful Tonight
Country Boy (Albert Lee)
unknown (what is this song? Gary Brooker?)
Blues Power
Double Trouble
Setting Me Up
Thunder and Lightning
If I Don't Be There By Morning
Worried Life Blues
Disc 2:

Home Lovin'
After Midnight
Cocaine
Further On Up the Road
Long Tall Sally (with Chas and Dave)
unknown title (with Chas and Dave)
Comments: Uncertain pedigree for this show. Setlist is at odds with that reported on the Tourography, notably the lack of Jeff Beck / Ramblin' On My Mind and Chas and Dave / Roll Over Beethoven, although they do appear on Long Tall Sally". Regardless, it's an interesting show, with rare live performances of 'Thunder and Lightning' and 'Home Lovin' from the unreleased Turn Up Down album sessions. Either my ears are playing tricks on me, or there is an ACCORDION (please, say it ain't so!) on 'Lay Down Sally'. If the date for this show is accurate (I think it is), it's more complete than any other commonly available release.