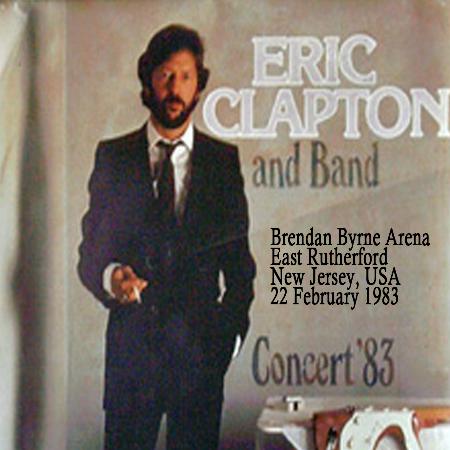 Front Cover
Back Cover
Eric Clapton - Brendan Byrne Arena
East Rutherford, NJ - February 22, 1983 - CD-R2 - Aud 3


Disc 1:
1. After Midnight
2. I Shot The Sheriff
3. Worried Life Blues
4. Slow Down Linda
5. Lay Down Sally
6. Let It Rain
7. Sweet Little Lisa
8. Key To The Highway
9. Tulsa Time  (incl.)

Disc 2:
1. Rock 'N Roll Heart
2. Wonderful Tonight
3. Blues Power
4. Who's Loving You Tonight >>>
Have You Ever Loved A Woman >>>
Ramblin' On My Mind
5. Cocaine
6. Layla
7. Further On Up The Road

The Band:
Eric Clapton   guitar, vocals
Jamie Oldaker   drums
Chris Stainton   keyboards
Donald 'Duck' Dunn   bass
Albert Lee   guitar, vocals

Artwork included, courtesy of Hym.

Lineage: Audience>?>cdr>EAC>Flac frontend 6

Comment: I think a few animals had seats for this show.

Rating (scale 1-6)  Aud 3+ with animals. Aud 4 without.