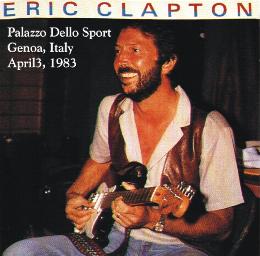 Eric Clapton - Palazzo Dello Sport
Genoa, Italy - May 3, 1983 - CD-R2 - Aud 5

Disc 1:

1) Tulsa Time
2) I Shot the Sheriff
3) Worried Life Blues
4) Lay Down Sally
5) Let it Rain
6) Double Trouble
7) Ain't Nobody
8) Key to the Highway
9) After Midnight
10) The Shape You're In
11) Wonderful Tonight
12) Blues Power
13) Who's Loving You Tonight / Have You Ever Loved a Woman / Ramblin' On My Mind
14) Cocaine
15) Layla
16) Further On Up the Road
17) Crossroads


Note: An excellent audience recording, especially considering the age of the recording. There is a bit of echo, but vocals, keyboards, guitar and drums all come through the mix nicely. The bass is a bit muddy and sometimes gets lost. A spirited crowd makes this recording fun to listen to, particularly on "Tulsa Time" and "Worried Life Blues". "Key to the Highway" features some great interplay between EC and Albert Lee, but sadly fades out after four minutes and is incomplete. Please note that the cover art lists the incorrect date - this concert took place on May 3, 1983 (AS).