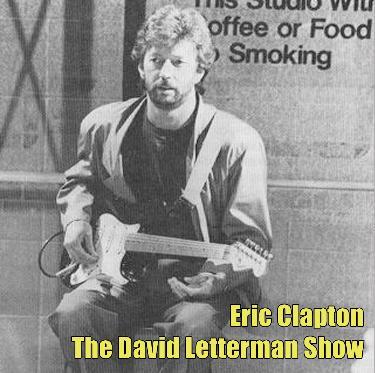 Eric Clapton - David Letterman Show
New York, New York - May 8, 1985 - CD-R1 - SB 4
Track List:
Introduction / Host Monologue
Layla
Lay Down Sally
White Room
Forever Man
Further On Up the Road
Same Old Blues
Knock On Wood
Outro
Comments: Complete show, audio only on CD. Interestingly, this is apparently from a control room master as it includes the portions of the performance not broadcast on TV, minus the programme fades. EC appeared and sat in with the band, there was no formal interview segment. Nicely done, and an interesting document for any EC fan as this was the first time EC had played "White Room" in years (apparently at the request of the band), and it has been part of his setlist off and on ever since. Although this is a more complete document of the performance than the actual broadcast, it *is* missing EC's snappy answer to a music trivia question brought up during the show in a discussion between the host and one of the guests, comedian Fred Willard.
Here one can find a few tasty morsels from the show:
At the end of the broadcast ...
This one's just for Slowhander Sol ... so we can see if he's paying attention!