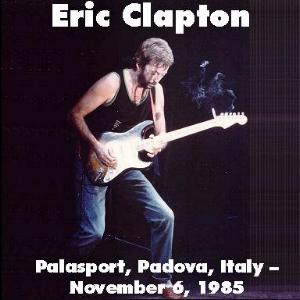 Eric Clapton - Palasport
Padova, Italy - November 6, 1985 - CD-R2 - Aud 2

Disc 1:

Tulsa Time
Motherless Children
I Shot the Sheriff
Same Old Blues
Tangled in Love
White Room
(unknown) Laura Creamer and Shaun Murphy
Wonderful Tonight
She's Waiting
Disc 2:

Badge
Let it Rain
Double Trouble
Cocaine
Layla
Forever Man
Further on Up the Road
Geetarz Comments: Missing the end of "She's Waiting", otherwise complete show. Difficult listen - diehard only. Last regular show of the 1985 tour.
Visitor Comments:
"Last show from a triumphal italian tour: 9 sold out dates, more than 50.000 people attended them !!! I was at this show and there were riots between ticketless fans and police outside the venue, just like in the '70s !!! The show was a standard 1985 one, but with an exceptional audience, as usual in Italy. The photo on the cover of your CD has been taken at this show as Eric was dressed that (strange) way." - (VP)