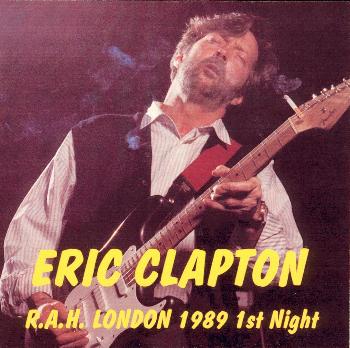 Eric Clapton - R.A.H. London 1989 1st Night
London, England - January 20, 1989 - CD-R2 - Aud 4

Disc 1:

Crossroads
White Room
I Shot the Sheriff
Bell Bottom Blues
After Midnight
Wonderful Tonight
Can't Find My Way Home
Forever Man
Same Old Blues
Disc 2:

Knocking On Heaven's Door
Easy Lover
Tearing Us Apart
Cocaine
Layla
Behind the Mask
Sunshine of Your Love
Comments: Upgrade to most versions of this show on disc - 1st Gen CAS -> CD-R. An excellent performance, and EC is in a great mood and uncharacteristically chatty, for instance in his introduction to "After Midnight". Of note are an excellent duet on vocals of "Can't Find My Way Home" by Nathan East and Phil Collins.