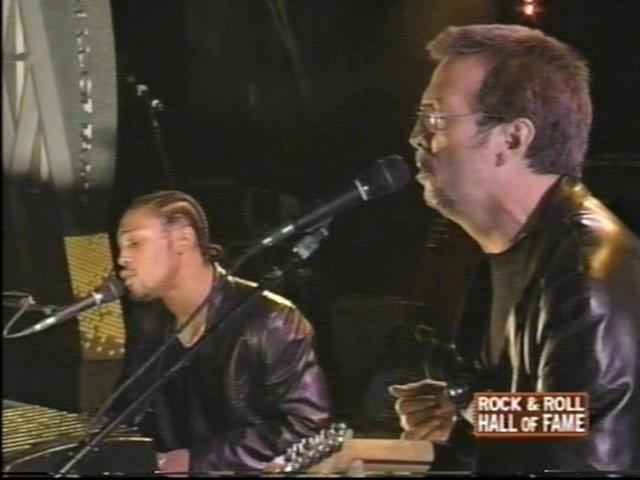 The Rock and Roll Hall of Fame 1999 Induction Ceremonies
New York, New York - March 15, 1999 - DVD-R2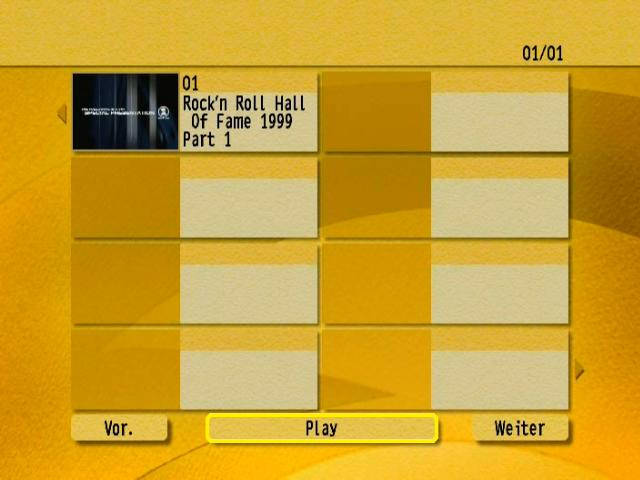 Edited version of the 1999 Rock and Roll Hall of Fame induction ceremonies, as broadcast on VH1. DVD-R2 set apparently sourced from VHS masters.
Comments:
The 14th Annual Induction Ceremony for the Rock and Roll Hall of Fame took place at the Waldorf Astoria Hotel in New York City on Monday, March 15, 1999. The sold out event was closed to the general public -- and members of the recording industry paid a minimum of $1,500 to attend.

This is the list of the inductees for 1999:

Performers

* Billy Joel
* Curtis Mayfield
* Paul McCartney
* Del Shannon
* Dusty Springfield
* Bruce Springsteen
* Staples Singers

Non-Performers

* George Martin

Early Influences

* Charles Brown
* Bob Wills & His Texas Playboys

It was a night for celebrating, but a sense of tragedy still hung over the party. Like Springfield, Brown died since being named to the hall late last year. Shannon committed suicide in 1990, and Mayfield was paralyzed from the neck down after being crushed by a lighting rig that same year. McCartney was making one of his first public appearances since the death of his wife, Linda, last year.

Lauryn Hill, Puff Daddy, and D'Angelo were among the young lions on hand to salute the 1999 crop of inductees. Neil Young, Eric Clapton, and U2's Bono were also among the artists who headed to New York's Waldorf Astoria for the night's ceremony.

After a huge night of inductions, the musicians and friends hit the stage for the All-Star Jam that the induction ceremonies have become popular for. The jam was started by The Boss & The E Street Band playing "Promised Land", "Backstreets", and concluding with "10th Ave Freeze Out". The Bruce called out Wilson Picket. The band broke into "Midnight Hour". Billy Joel jumped on keyboards! Wilson took the first verse and Bruce took the second. Next they were joined by Eric Clapton and rhythm-and-blues singer D'Angelo who played Curtis Mayfield's "I've Been Trying".

Billy Joel then did a fantastic rendition of Del Shannon's "Runaway". The music was not over yet when Eric Clapton, Bonnie Raitt and Paul McCartney took the stage and launched into Carl Perkins' "Blue Suede Shoes". Paul Schaffer's band was backing.

Billy Joel rejoined the stage to take lead vocals on "What I Say". Dion joined the crew along with Bonnie Raitt and Chris Isaak. This was quite a jam! Paul was jumping around the stage, sharing a mike with Dion!

Then Bruce, Bono and Nils Loughgren came onstage. Bono took lead vocals for a rendition of Curtis Mayfield's "People Get Ready". He included a small dedication to Curtis. The mighty Lauryn Hill took the stage for back up singing duties. This was an extended version of the song, complete with Bono leading an acapella chant of "Hallelujah"!

Then Billy Joel struck the opening chords to one of Paul McCartney's great ones, "Let It Be". Billy took the first verse and Paul jumped in on the chorus. Paul then took over and was pounding out heart wrenching vocals. They all stood behind him, adding their voices and instruments to his: Lauryn Hill, Eric Clapton, Bonnie Raitt, Melissa Etheridge, The Staples, and Wilson Pickett.

Set List

Eric Clapton joined the following songs:

* I've been trying (w/ D'Angelo)
* Early in the morning (w/ D'Angelo)
* Blue suede shoes (w/ Paul McCartney and Billy Joel)
* What I'd say (w/ Paul McCartney and Billy Joel)
* People get ready (w/ all stars)
* Let it be (w/ all stars)


Broadcast

An edited version aired exclusively on VH1 on March 17, 1999, showing the highlights of the event.