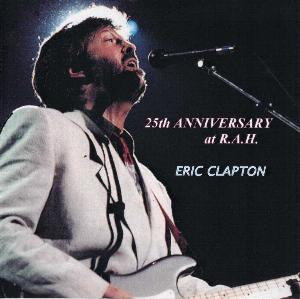 25th Anniversary at RAH
London, England - February 4, 1988 - ECDR 883/884 - Aud 4

Disc 1:

Crossroads
White Room
I Shot the Sheriff
Wonderful Tonight
Run
Same Old Blues
Tearing Us Apart
Holy Mother
Disc 2:

Badge
Let it Rain
Cocaine
A Remark You Made
Layla
Behind the Mask
Sunshine of Your Love
Money For Nothing
Further On Up the Road
Comments: A clear, listenable audience recording. Mark Knopfler's guitar work is well featured, particularly a sweet into to "Holy Mother". Nathan East also contributes an interesting "vocal" solo in unison with his bass in "Further On Up the Road". There is also a different recording of this show available.