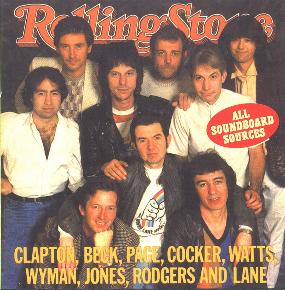 ARMS Concert USA
Madison Square Garden, NYC - December 9, 1983 - Hercules 2/3/4 - SB 5

Disc 1:

Bill Graham Introduction
Everybody Ought to Make a Change
Lay Down Sally
Wonderful Tonight
Rita Mae
Ramblin' On My Mind / Have You Ever Loved a Woman
Cocaine
Don't Touch Me
Watching River Flow
Worried Life Blues
You Are So Beautiful
Seven Days
Feelin' Alright
Disc 2:

Star Cycle
Pump
Definitely Maybe
Blue Wind
People Get Ready
Going Down
Disc 3:

Prelude
Who's to Blame
City Sirens
Boogie Mama
Midnight Moonlight
Stairway to Heaven
Layla
With a Little Help From My Friends
Good Night Irene
Bill Graham Closing
Comments: According to the back cover, "Disc 1: 1-7 and Disc 2: 8-9 are from the Cow Palace, San Francisco, December 3, 1983". Of course Disc 2 only has 7 tracks, so why does the cover say tracks 8-9? Unknown why the complete NY show is not featured here.