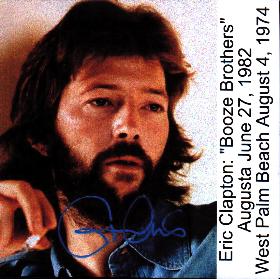 "Booze Brothers"
See below for dates and venues - CD-R from private source - aud 3 / sb4

Track List:
Civic Center, Augusta, Georgia - June 27, 1982
1) Blow Wind Blow
2) Ramblin' On My Mind / Have You Ever Loved a Woman
3) Key to the Highway
4) Double Trouble
West palm Beach International Raceway - August 4, 1974
5) Every Night About This Time
6) I Shot the Sheriff
7) Band Intro
8) Can't Explain
9) Badge

Comments: Amazing - EC and band performing the Who's "I Can't Explain". As to EC's performance of "Badge", it's one of 'those' shows ... "Mabel? MABEL? Fuckin' MABEL? Never heard of her..."