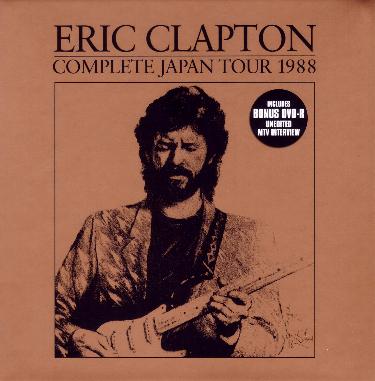 Front Cover
Back Cover
Eric Clapton - The Complete Japan Tour 1988
Japan, 1988 - DJ Copy / EC Is Here - 136-143 + Bonus DVD
Tracklist:
Crossroads
White Room
I Shot the Sheriff
Lay Down Sally
Wonderful Tonight
Tearing Us Apart
Can't Find My Way Home
After Midnight
Money For Nothing (*)
Candle in the Wind (**)
I Guess That's Why They Call It the Blues (**)
I'm Still Standing (**)
Cocaine
Layla
Solid Rock (*)
Saturday Night's Alright
Sunshine of Your Love
Nicely packaged 8CD boxset contains the entirety of Eric Clapton's 1988 tour of Japan. Special guests on this tour also included (*) Mark Knopfler on guitar and (**) Elton John on piano. The Bonus DVD included with this set is an unedited MTV interview apparently conducted at the end of the 1986 or 1987 tours, as EC refers to those shows as just having concluded. The interview alone is worth acquiring, as it's a pretty revealing interview. It would be fascinating to ask EC the same questions a couple decades later and see how he would answer the same questions!