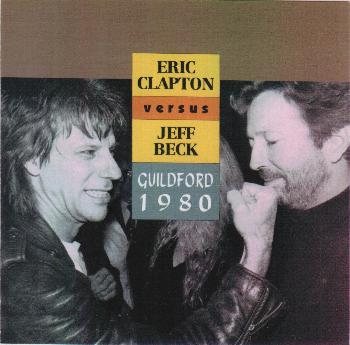 Eric Clapton Versus Jeff Beck: Guildford 1980
Guildford, England - May 18, 1980 - Zeus 2015001/2 - Aud 2

Disc 1:

Tulsa Time
Early in the Morning
Lay Down Sally
Wonderful Tonight
Country Boy
Hold On
Blues Power
Double Trouble
Setting Me Up
Thunder and Lightning
If I Don't Be There By Morning
Disc 2:

Ramblin' On My Mind Medley
Home Lovin'
After Midnight
Cocaine
Further On Up the Road
Long Tall Sally
Lawdy Miss Cloudy
Comments: Perhaps not EC's nadir - but close nevertheless. Even Jeff Beck's performance can't add but so much magic to what is an otherwise eminently forgettable performance, and a mediocre recording at well. Avoid.