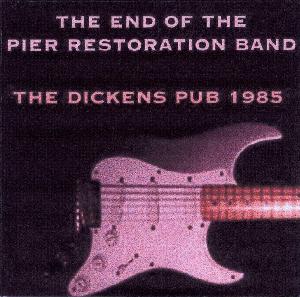 The End of the Pier Restoration Band
The Dickens Pub - December 12, 1985 - DSP-EC-346 - Aud 3

Disc 1:

Alberta
You're So Fine
Smokey Joe's Cafe
Willie and the Hand Jive
Sweet Little Rock and Roller
Good Golly Miss Molly
Walking in New Orleans
Brand New Cadillac
Hey Yeah Yeah
Sea Cruise
Memphis Tennessee
Promised Land
Too Much Monkey Business
Keep a Talkin'
Hey Bo Diddley
You Can't Judge a Book
Saturday Morning
Piano Boogie
Disc 2:

So Many Roads
Jump Now Baby
Roll Over Beethoven
Move on Down
Ubangi Stomp
Little Queenie
Just a Little Bit
Young Blood
Let's Stick Together
Money
Long Tall Sally
Comments: A bit difficult to listen to, given the average low level of the recording. EC remains largely in the background, stepping out to provide tasty fills and solos from time to time but preferring to be "part of the band". A good document of a unique performance.