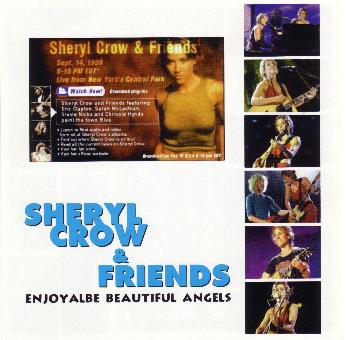 Enjoyable Beautiful Angels
New York, New York - September 14, 1999 - lun - SB 4

Disc 1:

Introduction
A Change Would Do You Good
Anything But Down
Can't Cry Any More
Leaving Las Vegas
Introduction (2)
Angel (with Sarah McLachlan)
Sweet Child O'Mine
Am I Getting Through (Part 1 & 2)
Disc 2:

Introduction 3
Everyday is a Winding Road
Strong Enough (with Dixie Chicks)
Gold Dust Woman (with Stevie Nicks)
My Favorite Mistake
Mississippi (with Dixie Chicks)
If It Makes You Happy (with Chrissie Hynde)
Happy (with Keith Richards and Chrissie)
The Difficult Kind (with Sarah McLachlan)
White Room (with Eric Clapton)
Little Wing (with Eric Clapton)
There Goes the Neighborhood
Tombstone Blues
All I Wanna Do
Comments: Drastically inferior to the Geetarz recording of this performance, this release apparently has at least a few analog generations involved which really add a lot of hiss and clutter. Recorded from FM, WPLJ broadcast from New York City. Avoid.