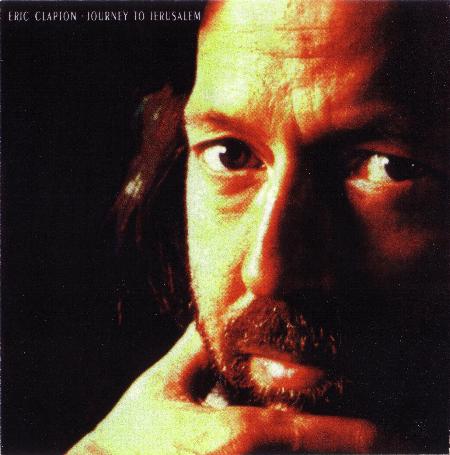 Front Cover
Front Inside
Back Cover
Back Inside
Eric Clapton - Journey to Jerusalem
Jerusalem, Isreal - July 13, 1989 - Silver Horse - SH8901 A/B - Aud 3
Disc 1:
Crossroads
White Room
I Shot the Sheriff
Bell Bottom Blues
Lay Down Sally
Wonderful Tonight
Wanna Make Love to You
After Midnight
Can't Find My Way Home
Forever Man
Disc 2:
Same Old Blues
Tearing Us Apart
Cocaine
Layla
Badge
Sunshine of Your Love
Interview
The sound quality on this one isn't great, and can be a difficult listen at times. However, the performance more than makes up for the shortcomings of the recording. Of note are a really nice performance of 'Same Old Blues' complete with a good guitar/bass duel between EC and Nathan East. EC's outro solo during 'Tearing Us Apart' is a bit different than the way he usually plays it, with fewer notes and relying more on a "singing" sustain. Cover art incorrectly lists the date as July 14.

One of the refreshing things about travel, is that one learns that although cultures, styles, and attitudes may be different in some superficial ways, at the core people are pretty much the same all the world over. This recording is a great illustration of that, as during 'A Remark You Made' the Isreali crowd prove that they are just as good at the "SIT DOWN YOU JERK!" argument as any Asshole New Yorker!
Visitor Comments:
"I was traveling in Israel on a National Federation of Temple Youth (NFTY) "teen tour" when the opportunity to attend Clapton's Jerusalem concert grabbed me. This would be my FIRST concert anywhere. The venue is a huge, open-air, grass-covered hill. I think every American and British kid and ex-pat in the region attended the show! One of the intro-tunes to come over the loudspeakers was by James Brown, to which myself and my friends began chanting "FREE JAMES BROWN!" In 2007, my mom still wears a t-shirt I bought at the show." - A. Nonny Moose