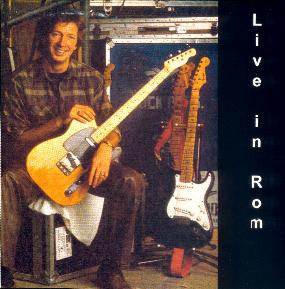 Live in Rome
January 29, 1987 - CD-R1 - Aud 3

Track List:

White Room
I Shot the Sheriff
Hung Up On Your Love
Wonderful Tonight
Miss You
Same Old Blues
Cocaine
Comments: Sourced from vinyl LP bootleg. Pity that the sound quality does not live up to the performance. Absolutely blistering, one of the best of the '87 shows. Of special note, EC's vocals on "White Room" are great, you rarely hear him belt out a song like this - some nice hot solos, too. Interesting keyboard on "Wonderful Tonight" which sets this performance apart from many of the song. Probably the best performance of "Same Old Blues" of the 1987 tour. Pity a complete recording of the show hasn't surfaced.