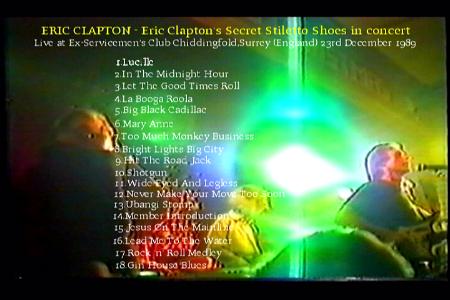 Eric Clapton - Secret Stiletto Shoes in Concert
Chiddingfold, UK - December 23, 1989 - Beano - nun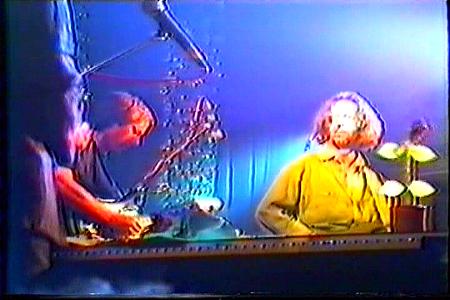 Comments: Handheld audience shot footage of the charity concert held at the Ex-Servicemen's Club on December 23, 1989. Band members included Eric Clapton, Andy Fairweather-Low, Garu Brooker, Henry Spinetti, Dave Bronze, Frank Mead, and the Dancing Plant.
"Wait a minute!" you exclaim .... "...what Dancing Plant??? I never heard of any Dancing Plant, what is that, some kind of kooky stage name???"
Ahhh, faithful reader, it's time to set your personal wayback machine to the end of the decade of the eighties, when the 21st century seemed so far away, and consider the fad of the day: a small microprocessor controlled sound-sensitive fake plastic rose in its own fake flowerpot, that swayed and 'danced' to music. The filmer was positioned up against the stage slightly behind and to the right of Gary Brooker's piano, on top of which the infamous device was stationed. The filming isn't bad, and considering the age the quality really isn't bad, but given the vantage point be prepared to have an annoyingly up close and personal view of a plastic novelty for the majority of the performance!
Nicely authored DVD on the "Beano" label, complete with menu. Perhaps not for everyone, but still a fun performance and quite entertaining.