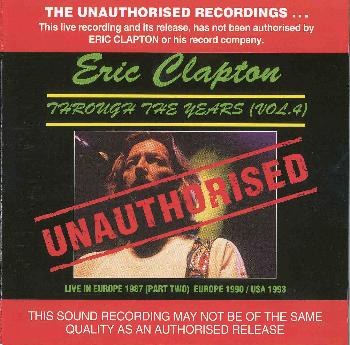 Eric Clapton - Through the Years Vol. 4
London, England - January 12, 1987 - Banana - BAN-005-D - SB 4

Track List:

Layla (Part One)
Layla (Part Two)
Money for Nothing
Sunshine of Your Love
Pretending
Running On Faith
Bad Love
Lay Down Sally
Hideaway
All Your Love
Tears in Heaven
Comments: Another in the "unauthorised" series, not particularly well done and a mishmash of dates and venues. This is the companion disc to Volume 3 in the series. Filler from various dates 1990-1993. Volume 4 (BAN-005-D) starts with 3 songs from the same night as Volume 3, "Layla", "Money for Nothing" and "Sunshine of your love". Strangely the 2 drummers swap positions from the first CD! - Volume 3 has Phil Collins mixed to the left, Steve Ferrone to the right, and Volume 4 has them the other way around. Otherwise sound and mix quality for this part is identical. The next 4 songs are from Royal Albert Hall 1990, probably 24/01/90.