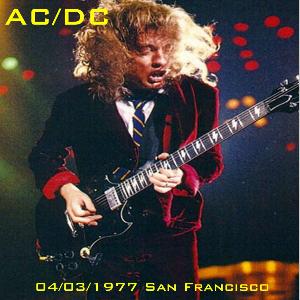 AC / DC - San Francisco 1977
San Francisco, California - April 3, 1977 - CD-R1 - SB6

Track List:

Hell Ain't a Bad Place to Be
Up to My Neck in You
Kicked in the Teeth Again
She's Got the Jack
Whole Lotta Rosie
High Voltage
Baby, Please Don't Go
Problem Child
Visitor Comments: "the show is from 9/3/77 (guess someones 9 looked like a 4 somewhere) and the 1st 3 tracks from the show aren't on this recording. the full show is available on bootleg eg Hard n Heavy, not that I've got it. It's a cracking concert though" - A. Nonny Moose.