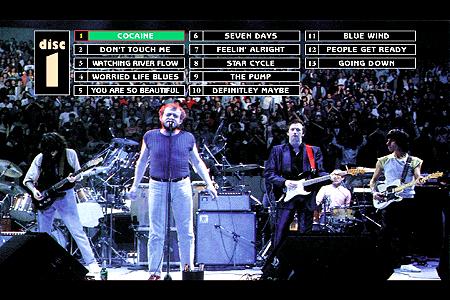 The ARMS Concert NYC
New York, New York - December 9, 1983 - Hercules - DVD-R1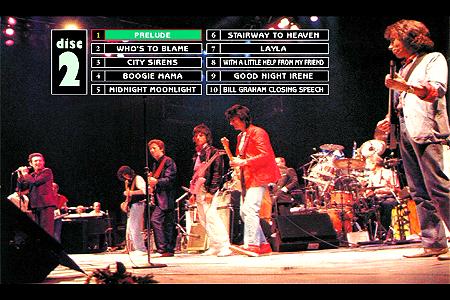 Geetarz Comments: Excellent quality pro shot footage from the final concert of the ARMS tour held at New York's Madison Square Garden on December 9, 1983. Pleasing, well done authoring job on the Hercules label. The footage is incomplete, but certainly as complete as we have seen from any source. Recommended.
Visitor Comments:

"12/8/1983 marked, as Jeff Beck noted during his dedication of "People Get Ready" that it was "THREE YEARS AGO TODAY, TO THE DAY" that John Lennon was killed. And Joe Cocker dedicates the ensemble encore "A Little Help From My Friends" to Lennon as well.

I was at the 12/8/83 show; still have the stub. I never forgot the dedications to Lennon that night, but I had no recollection of Ronnie Lane's encore ending with a mini "end of the tour" party on stage with champagne.

The entire show on this DVD, with the exception of the Ronnie Lane encore/celebration, is taken from the night they remembered John Lennon; December 8. 1983.

But don't believe me, take a look for yourself. During the last show of the tour finale, while everyone's drinking champagne, take a close look at what everyone's wearing; most notably Jeff Beck in white pants and Bill Wyman in a light blue suit. (That's the end of the December 9, 1983 show).

Then watch the rest of the show. Beck's wearing black leather pants for his set as well as the Layla encore; and Wyman's wearing a striped shirt and black jacket during the Clapton/Cocker sets as well as the Layla encore. (THAT'S THE DECEMBER 8, 1983 SHOW).

You can even tell from the pictures that Jeff Beck did a lightning speed wardrobe change between Layla and Goodnight Irene here." - Anon