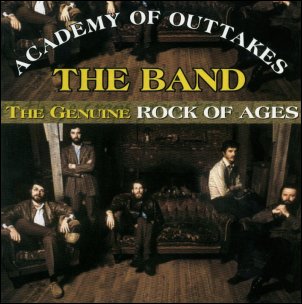 The Band - Academy of Outtakes
New York, New York - December 28-31, 1971 - Wild Wolf - SB6

Disc 1: Academy of Music:
Cripple Creek
The Shape I'm In
The Rumor
Time to Kill
Strawberry Wine
Rockin' Chair
This Wheel's On Fire
Get Up Jake
Smoke Signal
I Shall Be Released
The Weight
Stage Fright
Life Is A Carnival
King Harvest
Caledonia Mission
WS Walcott Medicine Show
The Night They Drove Old Dixie Down
Across the Great Divide
Disc 2:
Unfaithful Servant
Baby Don't Do it
Genetic Method
Chest Fever
Rag Mama Rag
R&R Shoes
Loving You Is Sweeter Than Ever

UltraSonic Rehearsal:

The Night They Drove Old Dixie Down
Across the Great Divide
WS Walcott Medicine Show
WS Walcott Medicine Show
Across the Great Divide
Unfaithful Servant
Chest Fever


"Hidden" track:
Crash on the Levee (Bob Dylan)
Comments: Review of the release found at The Band Homepage:
2CD Band bootleg released on the Wild Wolf label in 2000, with tracks from 1971 live recordings and rehearsal tapes. All previously unreleased/ uncirculated according to this "ad" for the CDs:
Incredible 33-track, superb quality from master reel sources. Another fab Wild Wolf set with 25 previously unreleased/uncirculating performances from the NY City, Academy of Music, December 28-31, 1971/72 gigs that spawned "Rock of Ages" - but no overlap with that one. Plus a terrific 8-song rehearsal from UltraSonic Studios, Long Island, in Dec 1971, also uncirculating & in primo sound.

Beautifully dressed up color glossy set w/vintage Band pics (6) spread throughout a 3-panel gatefold paper sleeve and classic color live shot from the Academy on back cover. Disks are 24K gold plated, audiophile design, with black/gold song titles on disk. An absolute knockout 155+ minutes and an instant Hall-of-Famer.