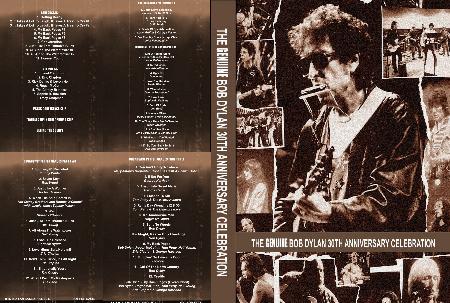 Cover Art
Cover Art
Cover Art
Cover Art
Cover Art
Cover Art
Cover Art
Cover Art
Cover Art
The Genuine Bob Dylan 30th Anniversary Celebration
New York, New York - October 16, 1992 - Backpages - DVD-R4
This set brings together all available rehearsals, interviews, extras, and performances. It was compiled in the spirit of other "Genuine" sets, eg., The Genuine Basement Tapes, where all available performances, interviews, and supplementary materials are sought for the sake of completeness. It thus includes three pre- broadcast performances, two by G.E. Smith and one by John Hammond, Jr., that are not included on previous DVD sets, as well as interviews that were conducted with the performers. It also restores the original order of the pre-broadcast and broadcast performances. Finally, Disk 4 contains an overdubbed version of My Back Pages, the one in which Dylan's vocal was "improved".

Video standard: NTSC
Authoring: DVDs with menu and chapters are circulating


DISK ONE

(a) Rehearsals (70m)

It Takes A Lot To Laugh (x 2)
My Back Pages (x 3)
Just Like Tom Thumb's Blues (end only)
All Along The Watchtower (x 2)
Forever Young

(b)Interviews (7m)

Featuring Sinead O'Connor, Eric Clapton, Danko/Helm, McGuinn, Liam Clancy, Tommy Makem, Sophie B Hawkins, Tracy Chapman

(c) Extras

Montage of `65 SF Press Conference and other clips (2m)
Tangled Up In Blue (RTR live version)
"Behind The Scenes" footage (6m)

DISK TWO

(a) Pre-Broadcast Songs (24m)

Gotta Serve Somebody - Booker T Jones
*From A Buick 6 - GE Smith
*Lay Lady Lay (instrumental) - GE Smith
Boots Of Spanish Leather - Nanci Griffith & Carolyn Hester
*See That My Grave Is Kept Clean - John Hammond

(*from an alternate video source)

(b) Broadcast Songs (i) (66m)

Like A Rolling Stone - John Mellencamp with Al Kooper
Leopard-Skin Pill-Box Hat - as previous
Blowing In The Wind - Stevie Wonder
Wanted Man - George Thorogood
I Want You - Sophie B Hawkins
Foot Of Pride - Lou Reed
Masters Of War - Eddie Vedder & Mike McCready
The Times They Are A-Changing - Tracy Chapman
It Ain't Me, Babe - June Carter & Johnny Cash
What Was It You Wanted? - Willie Nelson
I'll Be Your Baby Tonight - Kris Kristofferson

DISK THREE

Broadcast Songs (ii) (68m)

Highway 61 Revisited - Johnny Winter
Seven Days - Ron Wood
Just Like A Woman - Richie Havens
When The Ship Comes In - The Clancy Brothers + Tommy Makem
War - Sinead O'Connor
Just Like Tom Thumb's Blues - Neil Young
All Along The Watchtower - as previous
I Shall Be Released - Chrissie Hynde
Love Minus Zero, No Limit - Eric Clapton
Don't Think Twice, It's Alright - as previous
Emotionally Yours - The O'Jays
When I Paint My Masterpiece - The Band

DISK FOUR

(a) Broadcast Songs (iii) (57m)

You Ain't Goin' Nowhere - Shawn Colvin/Mary Chapin Carpenter/Roseanne Cash
If Not For You - George Harrison
Absolutely Sweet Marie - as previous
Licence To Kill - Tom Petty & The Heartbreakers
Rainy Day Women - as previous
Mr Tambourine Man - as previous + Roger McGuinn
Song To Woody - Bob Dylan
It's Alright Ma - Bob Dylan
My Back Pages - McGuinn, Petty, Young, Clapton, Dylan, Harrison
Knocking On Heaven's Door - all
Girl From The North Country - Bob Dylan

(b) Bonus (5m)

My Back Pages - as previous, but with Dylan vocal overdubbed

This four-disk set is culled from the best available sources and was professionally- edited and authored by Backpages. Except for the G.E. Smith and John Hammond, Jr. pre-broadcast performances, the quality is excellent. The Smith and Hammond performances were transferred from a 3rd generation tape and are thus only fair video quality with audio static.