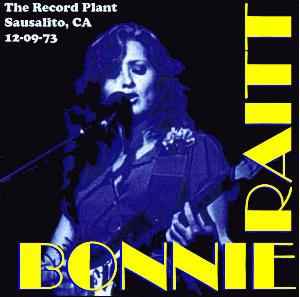 Bonnie Raitt - The Record Plant
Sausalito, Ca. - December 9, 1973 - CD-R1 - SB 6

Track List:

Love Me Like a Man
You Got to Know How
I Thought I Was a Child
Under the Falling Sky
Everybody's Crying Mercy
Give it Up Or Let Me Go
Band Introductions
Stayed Too Long at the Fair
I Feel the Same
Guilty
Woman Be Wise
Love Has No Pride
Baby I Love You
Comments: Beautiful acoustic show. FM Master Reel -> DAT -> CD-R. Now also available in a remastered version!