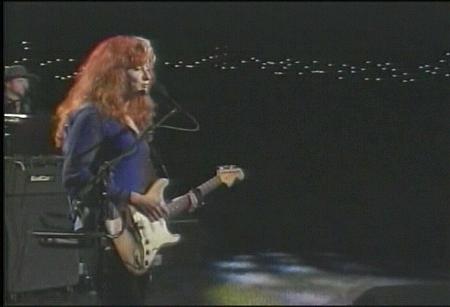 Bonnie Raitt - Austin City Limits
Austin, Texas - May 16, 2002 - DVD-R1

Love Letter
Fool's Game
I Can't Help You Now
Gnawin' On It with Roy Rogers
Silver Lining
Hear Me Lord with Oliver Mtukudzi
No Gettin' Over You
Fundamental/Good Man/Woman
I Can't Make You Love Me
Angel from Montgomery with John Prine
Comments: Austin City Limits kicks off its 28th season with the rockin' rowdy blues of legendary Grammy winner Bonnie Raitt. Raitt is joined by blues guitarist Roy Rogers, Zimbabwe pop star Oliver Mtukudzi and singer-songwriter John Prine during her hour-long performance.
For Austin City Limits' season 28 debut, Raitt performs songs from her most recent album, Silver Lining, plus some of her signature tunes. Highlights include "Gnawin' On It" featuring Roy Rogers, "Hear Me Lord" with Oliver Mtukudzi and "Angel of Montgomery" with John Prine.
In addition to kicking-off the new season, this episode will go down in Austin City Limits' history. For only the third time since the series premiered in 1975, this episode was taped outside the historic Austin City Limits studio at KLRU-TV in Austin. The special performance was recorded at the Austin Convention Center, which gave more of Raitt's dedicated fans the chance to dance to her soul-bearing blues.
"It was quite a challenge to reproduce the famous Austin skyline backdrop on a much larger scale for such a big space and audience," said producer Terry Lickona. "And it's remarkable how it still maintains the same intimate look and feel of the studio. Of course, most people watching think it's all recorded outdoors in a big park anyway!"