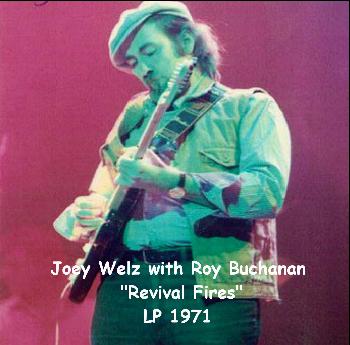 Roy Buchanan - Joey Welz "Revival Fires" LP
1971 - CD-R1 - SB 5

Track List:

Come On Roy
Johnny B Goode
Treat Her Right
Money
Big Boss Man
Runaway
Southern Country
Bo Weevil
Shake, Rattle, and Roll
Haunted House
Jammin' With Roy
Come Go With Me
Old Rock and Roller
Little Red Riding Hood
Geetarz Comments: Please note that the cover art is inaccurate; there are no bonus tracks.

Visitor Comments: "This album is an absolute fraud. None of the tracks are the listed songs: ex. Johnny B. Goode is actually Summer Place; Treat Her Right is actually Stand By Me; Big Boss Man is actually Whiter Shade of Pale...and most tracks don't even feature Roy Buchanan...I know because I have 11 original Buchanan albums and the Guitar on Fire and Sweet Dreams collections. Someone should stand up and denounce this album for what it really is: a complete FRAUD." - David H.