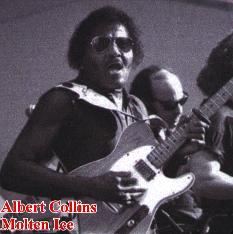 Albert Collins - Molten Ice
Recorded at the El Mocambo Club on November 20, 1973 - CD-R - aud 4

Track List:
1) Intro
2) All About My Girl
3) I've Got a Mind to Travel
4) Things That I Used to Do
5) Frosty
6) Wah Heat
7) Can't You See What You're Doing
8) Johnny B. Cool

Note: An excellent audience recording, very listenable. A well balanced mix, without the "boominess" or "tinniness" one sometimes finds in aud-recs. A worthy document.