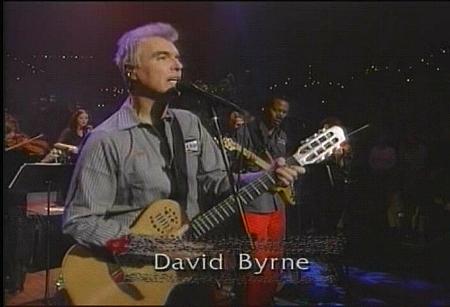 David Byrne - Austin City Limits
Austin, Texas - November 28, 2001 - DVD-R1
"Once in a Lifetime"
"Nothing But Flowers"
"The Great Intoxication"
"The Revolution"
"And She Was"
"What a Day That Was"
"Naïve Melody"
"Like Humans"
"I Wanna Dance with Somebody"
"Life During Wartime"
Comments: David Byrne has been one of rock 'n' roll's most inspired renaissance men for more than a quarter century. Well known as a critically acclaimed songwriter and performer, Byrne is also an accomplished performance artist, film writer/director, and composer of motion picture soundtracks.
After dropping out of Rhode Island School of Design in the mid-1970s, Byrne founded the celebrated Talking Heads. He was the driving force behind a body of work that was both intellectually daring and commercially accessible. Until the band broke up in 1991, their adventurous blend of classical minimalism, danceable funk and African rhythms earned them critical raves, hit records and worldwide fame.
Byrne has since had a noteworthy solo career also marked by bold innovation and musical exploration. His love of world music led him to form Luaka Bop Records in 1988 on which he has released his own records as well as the music of Brazilian, Cuban and Asian artists, among others.
His latest record Look Into the Eyeball contains songs reflecting a variety of styles including Gamble and Huff–influenced Philly soul, D.C. Go-Go inspired groove, as well as the song "Desconocido Soy," Byrne's first Spanish composition. The New York Times Magazine wrote that "Look Into the Eyeball "is his best work in years, a masterful blend of orchestral string music and what Byrne calls 'beats for the body.' … Despite the hybrid of influences, it's all indisputably catchy stuff. It's complex and poetic, but you can dance to it."
Byrne was inspired to run with the stylistic combination after incorporating a string quartet for a performance in Portugal. "I thought 'OK, I can write more songs and work out more arrangements with this kind of combination, with a strong rhythm section and the strings being really the band, providing all the stuff the band would do.' I thought it's going to be fun. It's going to be really beautiful but still driving." The outcome of this unusual synthesis is at once emotionally moving and rhythmically infectious.
Byrne's Austin City Limits debut includes new material along with Talking Heads classics, many performed with striking string arrangements.
On several of the Talking Heads most memorable — and danceable — songs, such as "Once in a Lifetime" and "Nothing But Flowers" Byrne sticks with a driving four-piece featuring extraordinary percussionist Mauro Refosco to fuel the funk-rock charge.
An Austin-based string ensemble Tosca joins him on stage for several songs including "The Great Intoxication." The refined grace of the strings combined with earthy percussion is a surprising yet exhilarating hybrid. On "Naïve Melody" the string and rhythm sections meld together to create a mellifluous groove.
Byrne caps off the evening with a rendition of the '80s disco hit "I Wanna Dance with Somebody" before bring down the house with another Talking Heads classic "Life During Wartime" and the familiar refrain "this ain't no party, this ain't no disco, this ain't no fooling around" made all the more fun arranged for strings.