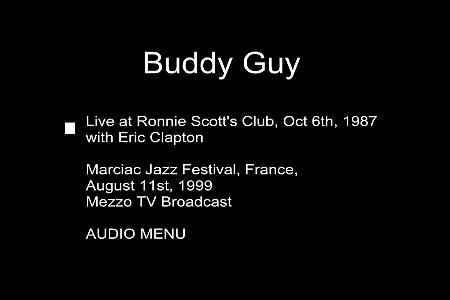 Buddy Guy - The No Name Compilation
Various unrelated dates and venues - Zetti DVD-036 - DVD-R1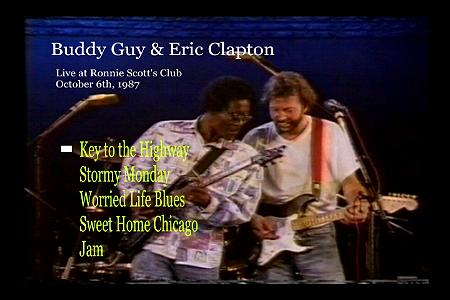 This unnnamed DVD compilation holds random clips from different eras, both in excellent quality. What do they have in common, other than that they both have performances by Buddy Guy? Does Eric Clapton play on both? Hmmm ... no. (BG does refer to EC during tbe 1999 performance but that is all). Perhaps both these clips just happened to be taking up space on someone's hard drive at the same time? Only time will tell. Filmed at Ronnie Scott's club in London, the 1987 footage is the best we have ever encountered of this powerful broadcast, apparently from a VHS master. The footage from the Marciac Jazz Festival is a transfer from the original PAL Format DVD recording, and, like the Ronnie Scott's footage, the transfer is flawless.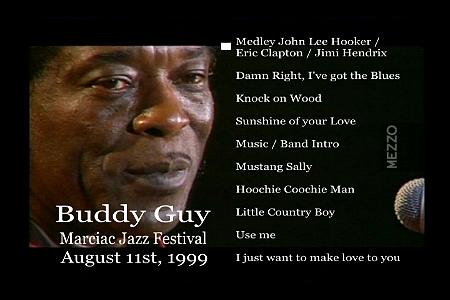 This is a fantastic DVD that any Eric Clapton or Buddy Guy fan would love to watch - if only they could find it! But alas, this one will be impossible to locate, since we won't ever know if it is filed under "Buddy Guy" or "Eric Clapton", or whether it is to be stored with the 1987 discs or the 1999 discs! Coming soon in the Zetti Buddy Guy series:

DVD 117: Live 1968, 2005, and 1976.
DVD 133¾: Live 1974, 1970, and 2001.
DVD 197: Live 2002, 1938, and 2000.
DVD 201²: Live 1976, 1977, and 2003, with special clips from Janis Joplin, Slim Whitman, and a very special interview with Mark Knopfler's Barber!