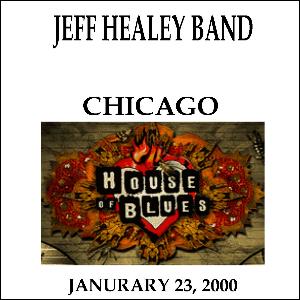 Jeff Healey - Live at the House of Blues
Chicago, Il. - January 23, 2000 - CD-R2 - SB 6

Disc 1:

My Little Girl
Stop Breakin' Down
Mean and Evil
Confidence Man
Stuck in the Middle
Like a Hurricaine
Can't Get My Hands on You
Yer Blues
I Should Have Told You
Disc 2:

Outskirts of Town
I Tried
Angel Eyes
Roadhouse Blues
See the Light
While My Guitar Gently Weeps
Dig Myself a Hole
Comments: A perfect soundboard recording, and a great performance! Of note here, Healey's rendition of Neil Young's "Like a Hurricaine", recorded for his "Cover to Cover" album but not included on that collection. Electric sets bookmark an all too short acoustic set that features a rendition of the blues classic "Outskirts of Town". Dan Akroyd guests on Arthur Crudrup's "Dig Myself a Hole" at the encore. A fun show!