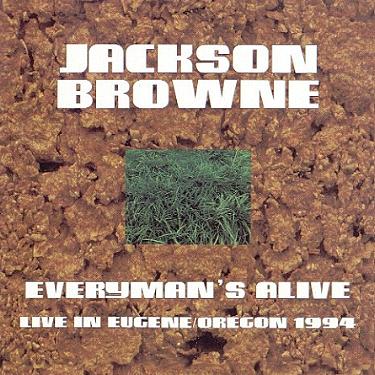 Jackson Browne - Everyman's Alive
Eugene, Oregon - 1994 - SRM 047-2 - SB 6

Disc 1:

Doctor My Eyes
I'm Alive
World in Motion
Everywhere I Go
My Problem is You
The Shape of a Heart
Late for the Sky
Your Bright Baby Blues
Miles Away
Too Many Angels
For Everyman
Boulevard
That Girl Could Sing
Disc 2:

Sky Blue and Black
The Pretender
Running on Empty
The Load-Out
Stay
Linda Paloma
Two of Me, Two of You?
For America
Tender is the Night
Chasing Into the Light
Anything Can Happen
For a Dancer
Lawless Avenues
The Word Justice
Comments: Disc 2, track 7 is a solo acoustic performance, 1994 tour. Disc 2, tracks 8-14 World In Motion USA Tour, 1989. Excellent recording from radio broadcast.