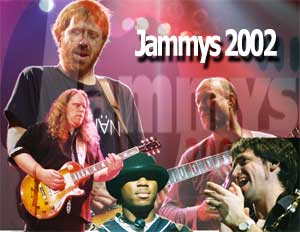 The 2002 Jammies
New York, New York - October 2, 2002 - DVD-R1 - Geetarz 250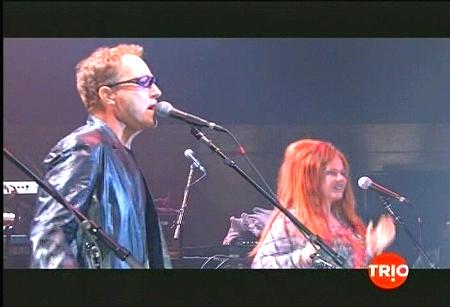 Comments: The Jammys 2002 Ceremony concluded with an uplifting, marathon version of "Lovelight," with countless musicians collaborating on both stages at Roseland Ballroom in New York City. RatDog was joined on the main stage by guitarist Trey Anastasio (Phish), Warren Haynes (Govt' Mule, Allman Brothers Band), Al Schnier (moe.), harmonica player John Popper (Blues Traveler), drummer Matt Abts (Govt' Mule) and DJ Logic.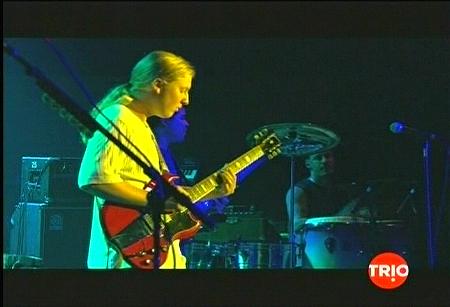 Meanwhile, the second stage was inhabited by bassist Mike Gordon (Phish), guitarist Fuzz (Deep Banana Blackout), steel pedal guitarist Robert Randolph, saxophonists Skerik (Critters Buggin', Les Claypool's Frog Brigade), Hope Clayburn (Deep Banana Blackout), Jessica Lurie (Living Daylights), Tom Tom Club vocalists Mystic Bowie and Victoria Clamp and "Flute Girl". A lengthy jam ensued between both stages, with musicians egging each other on from across the room (there was also a brief segue in and out of "Gloria"). Earlier in the show, during Gov't Mule's set, the Allman Brothers Band emerged, joining guitarist Warren Haynes for "Desdemona." Anastasio and John Scofield then performed on "Sco-Mule". Next, ABB guitarist Derek Trucks returned and Trey remained for "Soulshine."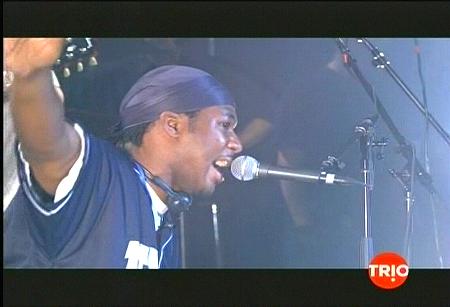 Other notable collaborations included Blue Oyster Cult and moe. on "Don't Fear the Reaper" and B-52's and Particle on "Love Shack."

Broadcast on the Trio network -> DVD-R. One special question: who on earth is the geek (below) they asked to host this thing?