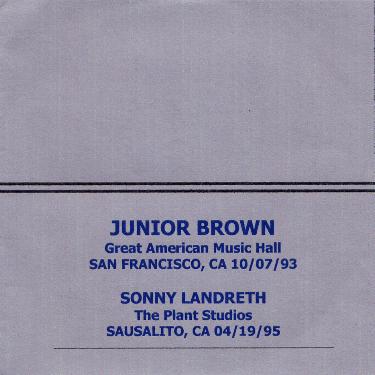 Junior Brown - Great American Music Hall
San Francisco, Ca. - October 7, 1993 - CD-R2 - SB 6

Disc 1:

Brokedown South of Dallas
When the Party Light Comes On
Freeborn Man
My Wife Thinks You're Dead
Too Many Nights in a Roadhouse
Lonesome Whistle
Highway Patrol
Back to Where it All Began
Better Half
I Know My Baby Loves Me
I Want to Hear it From You
Live and Love Always
Secret Agent Man Medley
My Baby Won't Dance to Nothing But Ernest Tubb
You Didn't Have to Go All the Way
Hillbilly Hula Girl
Baby Let the Bad times Be
A Way to Survive
Steel Guitar Rag
Venom Wearing Denim
Still Life With Rose
Disc 2:

Guit Steel Blues ->
Sugarfoot Rag
Can't Run Your Memory Away
Holding Pattern
Home to San Francisco

Filler: Sonny Landreth (*)

Instrumental
Next of Kindred Spirit
South of I10
Instrumental
Congo Square
Way South
Comments: (*) The Plant Studios, Sausalito, Ca. - KFOG FM.