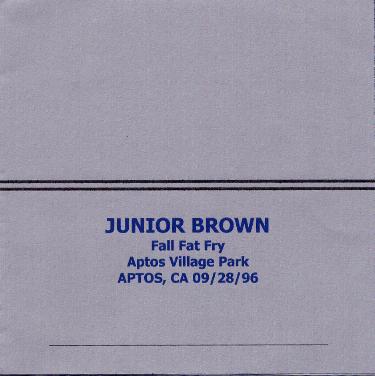 Junior Brown - Fall Fat Fry
Aptos, Ca. - September 28, 1996 - CD-R1 - SB 6

Track List:

Intro/tuning
Broke Down South of Dallas
When the Party Lights Come On
Too Many Nights in a Roadhouse ->
My Wife Thinks You're Dead
Freeborn Man
I Want to Hear it From You
Highway Patrol
Venom Wearin' Denim
Been Walkin' Through the Barnyard
Still Life With Rose
I Hung it Up
Penetration ->
Apache ->
Pipeline ->
Walk Don't Run ->
Band Intro ->
Secret Agent Man
I Gotta Get Up Every Morning...
Comments: KFJC FM -> VHS -> DAT -> CD-R.