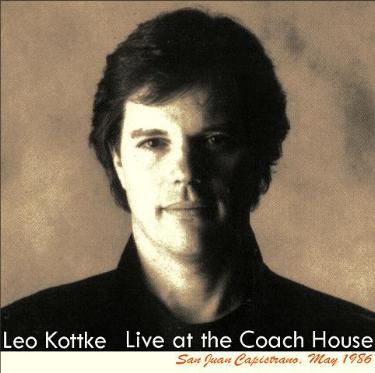 Leo Kottke - The Coach House
San Juan Capistrano, Ca. - May 23, 1986 - CD-R1 - SB 5

Track List:

Short Wave
Theme From "Doodles"
"Fat Boy Goes Nutzoid"
Airproofing
Last Steam Engine Train
Stealing
Little Beaver
"A Flaw in Classical Theory"
Classical Piece
"My Uncle's Funeral"
Sleepers Awake
Rings
Tiny Island
Mr. Fonebone
"Composing"
Mary
The Ice Field
Intro to "Little Martha"
Little Martha
Cripple Creek
"Richard Gilewitz"
Echoeing Gilewitz
Jack Fig
Part Two
June Bug
Comments: Excellent show from analog soundboard. Some minor hiss and wow and flutter keeps this from a perfect '6' rating.