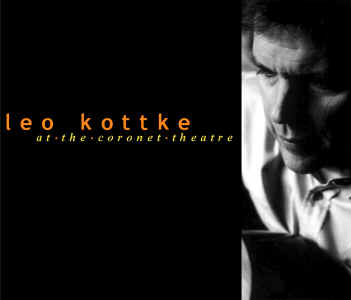 Leo Kottke - Coronet Theater
Los Angeles, Ca. - February 23, 1994 - CD-R2 - Aud 5

Disc 1:

I Yell at Traffic / Room Service
Hear the Wind Howl
"Sam Chapman / The Ukelele Player"
Oddball
Twilight Time
"Cigars / Joe Pass / Niagra Falls"
Jack Gets Up
Theme From the "Rick and Bob Report"
Rings
"Intro to Wonderland By Night"
Wonderland By Night
Room at the Top of the Stairs
"Cheyenne Memories / Intro to LITC"
Living in the Country
Disc 2:

Pamela Brown
Jesus Maria
Big Situation
"Touched With Fire"
Little Martha
Cripple Creek
Sailors Grave on the Prarie
June Bug
The Train and the Gate
Vaseline Machine Gun
Jack Fig
"Dog Tuning"
Arms of Mary
Comments: Tune a guitar? Tuna Fish? No, tune your dog!