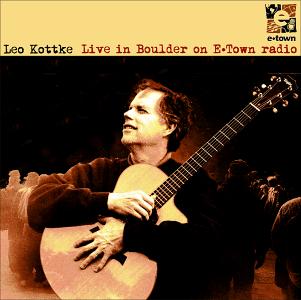 Leo Kottke - E-Town Live
Boulder, Co. - Various Dates - CD-R2 - SB 6

Comments: Fantastic 2-Disc compilation of Kottke performances on Boulder, Colorado's "E-Town" radio show. Fantastic, up front guitar tone makes these a favorite. And there's some of the usual Kottke humor, too - during "Rings" Kottke changes the luric to sing "you can turn down the vocals now". And in a rare moment, Kottke really blows "Cripple Creek" - nice to know he's not superhuman all the time!