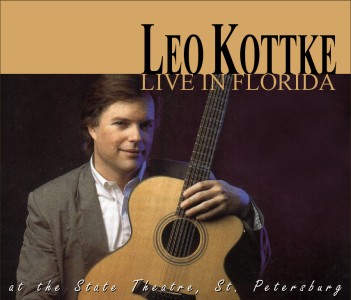 Leo Kottke - State Theater
St. Petersburg, Fl. - September 27, 1996 - CD-R2 - SB 6

Disc 1:

Eggtooth
Airproofing
Room at the Top of the Stairs
Intro to "Ray"
Don't Call Me Ray
"Funeral"
Rings
"The Golfing Poor of Aspen"
Jesus Maria
I Yell at Traffic
Room Service at the Tahiti Motel
"Seka Tavcar"
Across the Street
Disc 2:

Intro
Little Martha
Cripple Creek
Corinna, Corinna
Times Twelve
"Max"
Louise
"Touched With Fire"
Available Space
June Bug
The Train and the Gate
Vaseline Machine Gun
Jack Fig
Arms of Mary
Comments: Beautiful digital soundboard, a keystone of any Kottke collection. Highly recommended.