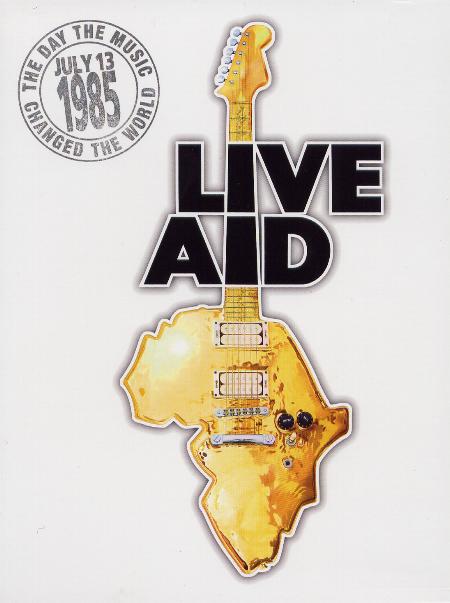 Cover Art
Live Aid - DVD
London and Philadelphia - July 13, 1985 - Warner R2970383 - 10 hours
Finally on DVD after all these years! There are still some notable missing tracks, but all in all, an well done, well authored package, the way these events should be done.
Seattle Times Review:
On July 13, 1985, the world was watching a singular event called Live Aid.

That day, an estimated 1.5 billion people in 160 countries tuned into a 16-hour concert taking place simultaneously on two continents. London's Wembley Stadium and Philadelphia's John F. Kennedy Stadium hosted a galaxy of stars — more than 60 acts in all — drafted by rock musician Bob Geldof to raise money for famine relief in Ethiopia.

Yes, the most ambitious one-day humanitarian effort in history — one that would eventually raise and distribute more than $145 million — originated not with a government or a foundation but with a minor rock star best known for the acerbic hit "I Don't Like Mondays."

To the 175,000 people at Wembley and JFK (including this reporter), Live Aid was a concert for the ages. To the rest of the world it was a television event of unprecedented scale, an attempt at realizing a global jukebox and, thanks to 16 satellites, a global video village. It drew one of the largest television audiences in history to the greatest entertainment package in rock history.

And then Live Aid disappeared. To minimize legal red tape, Geldof had promised participants it would never be rebroadcast or released on video. Bootleggers trading in counterfeit tapes and DVDs forced Geldof to reconsider, as did the onset of another famine crisis in sub-Saharan Africa.

The result: Live Aid has been released as a four-disc DVD set. It has been issued in conjunction with the 20th anniversary of a Live Aid precursor: "Do They Know It's Christmas," a song co-written by Geldof and recorded by two dozen British pop stars credited as "Band Aid." (Funds from a new, all-star recording of that song will be directed to providing famine relief to Sudan's blighted Darfur region.)

Even with a 10-hour running time, Live Aid doesn't include everything. Permission had to be sought from the artists who participated, and some declined, most notably Led Zeppelin. At Live Aid, the band's surviving members — guitarist Jimmy Page, singer Robert Plant and bassist John Paul Jones — had agreed to perform Led Zeppelin songs for the first time since the 1979 death of drummer John Bonham. There was only a single rehearsal with fill-in drummers Phil Collins and Tony Thompson, and though the crowd loved the 20-minute set, Led Zeppelin apparently hated it. The band did, however, make a significant contribution to Band Aid Trust, the entity that administers the shows' proceeds.

Also MIA: Crosby, Stills, Nash and Young, who had last toured together 11 years previously and whose two-song set was plagued by monitor problems. CS&N, minus Young, did a separate set, and a dreadful, off-key version of "Teach Your Children" survives here. Neil Young performed "The Needle and the Damage Done" and a new song, "Nothing Is Perfect" (both are included). Carlos Santana also declined to allow his set and a duet with guitarist Pat Metheny to be included.

Some performances have been lost, while others were cut because of technical glitches, including two Who numbers scuttled by a blown BBC fuse. On the other hand, the DVD set includes many performances originally interrupted or excised so ABC could run ads, as well as acts featured on the BBC broadcast.

U2's readings of "Sunday Bloody Sunday" and "Bad" are exhilarating. Some acts, including Queen, David Bowie and Eric Clapton, are represented by full sets of three to six songs. Collins played both shows, taking the Concorde from London to Philadelphia.

After various preliminaries, including the BBC newscast whose cataclysmic images of starvation first galvanized Geldof, and the videos for the original "Do They Know It's Christmas" and its even more famous all-star sequel, "We Are the World," the concert kicks off in London with Prince Charles and Princess Diana. "God Save the Queen" is played by the Coldstream Guards, followed by Status Quo performing the aptly titled "Rockin' All Over the World."

Disc 1, all Wembley-based, is a less-than-flattering snapshot of British pop taste at the time: synth pop and "new romantics" abound with Ultravox, Spandau Ballet, Nik Kershaw and Howard Jones, all given to hilariously floofy haircuts and flouncy fashion. But there are also sterling performances from Elvis Costello ("All You Need Is Love"), Sade, Sting and Paul Young.

Disc 2 switches to Philadelphia but alternates with additional London performances. Philly performances by the Hooters, the Four Tops, Billy Ocean, Rick Springfield, Kool and the Gang, and Power Station are simply excised, while Run-DMC's "King of Rock," one of rap's first significant exposures on a world stage, is relegated to the set's "Extras" package. So is one of Live Aid's most emotional moments: Philadelphia native Teddy Pendergrass making his first concert appearance since a 1980 car crash left him a paraplegic.

Disc 2 includes the Beach Boys, a reunited Who, Simple Minds, the Pretenders, Elton John (with Kiki Dee and George Michael) and Dire Straits (joined by Sting on "Money for Nothing," their dig at MTV). Queen's stadium-swaying "Radio Gaga" and "We Are the Champions" remain splendid, while David Bowie's "Heroes" captured the prevailing sentiment that "we can be heroes just for one day."

Disc 3 is strong as well, opening with Madonna, whom Bette Midler introduces as someone "whose name has been on everybody's lips for the last six months," and whose inexperience then as a live performer is quite evident. She also backs the awful Thompson Twins on a horrid rendering of the Beatles' "Revolution." Also featured are Duran Duran, Clapton and Patti LaBelle. Paul McCartney's "Let It Be" enlisted a little help from his friends Bowie, Geldof, Pete Townshend and Alison Moyet, before the Wembley crew gathered for a ragged but emotionally right rendition of "Do They Know It's Christmas?"

The final disc includes Hall and Oates singing with ex-Temptations Eddie Kendricks and David Ruffin; strutting Mick Jagger and Tina Turner dueting on "State of Shock/It's Only Rock and Roll"; an acoustic "Blowin' in the Wind" with Bob Dylan backed by Rolling Stones guitarists Keith Richards and Ron Wood, which must have seemed like a good idea early in the day before they'd had a few drinks.

The American finale is "We Are the World," the U.S. response to "Do They Know it's Christmas?" Led by Lionel Richie, with Harry Belafonte, Chrissie Hynde, Joan Baez, Sheena Easton, Dionne Warwick, Melissa Manchester, Kenny Loggins, LaBelle, Daryl Hall, a 50-member children's choir and most of the 36 acts who had performed during the day, it is a mess: There weren't enough mikes, and the cameramen had no idea who was going to sing which line.

DVD extras include acts who participated via live satellite feeds or taped sets from Australia (INXS), the Netherlands (B.B. King), Russia, Japan, Austria, Germany and Norway, the Jagger/Bowie duet on "Dancing in the Streets," as well as "Food and Trucks and Rock 'n' Roll," a 1986 BBC documentary showing how the proceeds were spent. (The money came from ticket sales, corporate sponsorships, sale of broadcast rights, merchandising and telethons in more than 20 countries.)

"Do They Know It's Christmas?" went to No. 1 in England and much of Europe, and sold 3.5 million copies in England. In January 1985, USA for Africa's even more crowded recording of "We Are the World" went to No.1 in America and sold 4 million copies — the second-best sellers of all time in their respective countries.

The new "Do They Know It's Christmas?" features more than 40 artists, including Bono, Coldplay's Chris Martin, Dido, Robbie Williams, Joss Stone, Dizzee Rascal, Travis, Keane and the Darkness. Besides a CD single, the song is available to download from the Internet through music services that have agreed to donate their proceeds to the Band Aid Trust.

When the "Christmas" video recently premiered simultaneously on England's five main television networks, more than 13 million people tuned in. And the British government recently agreed to refund sales tax collected on the new single and the Live Aid DVD, which will generate additional millions for the Band Aid Trust.
Visitor Comments:
"We all know Eric Clapton's performance of White Room was cut from ALL the broadcasts (ie. BBC, ABC, German TV, AND MTV) to show commericals and/or promotional material. So how then was a source for the beginning of this song found, so that the complete version of the song could be on the official set?

Well I did some research and made a unique discovery. The booklet text bearing the title "About this DVD" is vague. Aside from the BBC and MTV tapes, there was a third source that was used to fill in the gaps. It came from a satelite van from a "Channel 4" TV station, parked outside JFK stadium, that was receiving the "clean-feed". The technician decided to record a personal selection of sets that he wanted on a set of betamax tapes. This tapes were offered to the DVD producers. Eric Clapton's COMPLETE set was part of this recording (So was Judas Priest, but who's still a Judas Priest fan.....just kidding ;)

Great to know that parts of an official release came from what is practically a bootleg! Funny how these things turn up.Then again, we wouldn't have the great literature of Shakespeare if someone in the audience wasn't writing his plays down !!!" - Dan Molda