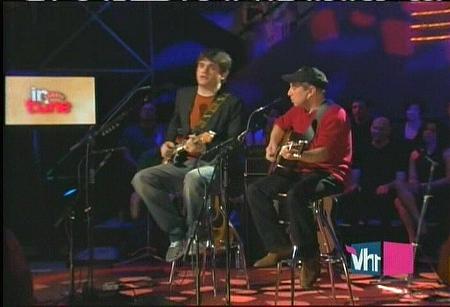 Paul Simon and John Mayer - "In Tune"
Cleveland, Ohio - May 14, 2004 - DVD-R1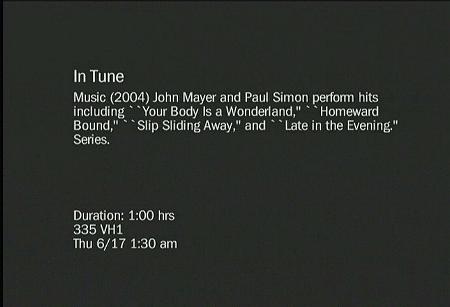 Comments: DirecTV -> DVD-R.
Review from the Cleveland Plain Dealer: Plain Dealer Pop Music Critic
Paul Simon and John Mayer jammed together May 14 at the Rock and Roll Hall of Fame and Museum.
The invitation-only concert was taped for "In Tune," a new VH1 series. It premieres at 8 tonight.
Unfortunately, viewers won't get to see one of the highlights of the exclusive Rock Hall engagement, a new Simon tune titled "Wartime Prayers."
Its lyrics struck a timely chord:
Wartime prayers
Wartime prayers
In every language spoken
For every family scattered and broken
The song also included the line: "You cannot walk with the holy if you're just a halfway decent man."
Simon and Mayer strummed acoustic guitars as Simon sang the moving ballad.
So why didn't "Wartime Prayers" make it to prime time?
For the hourlong first installment of "In Tune," preferential consideration was given to better-known material, according to Lee Rolontz, executive producer of the series and vice president of original music production for VH1.
"It was just a question of how many songs we could fit in there," Rolontz said.
"Unfortunately, for television audiences, you're always put on the spot to deliver stuff people know, because you're reaching a broad audience. . . .You take a hit over a new song."
Viewers will see the following:
Mayer does "Your Body Is a Wonderland."
Simon does "Homeward Bound."
Both troubadours team up for a pair of Simon oldies, "The Boy in the Bubble" and "Slip Slidin' Away," as well as Mayer's "Daughters."
For its part, the Rock Hall hopes to be seen in a cool new light by a national TV audience. Perched on stools, Simon and Mayer performed on the main stage in the museum's lobby, artfully lit up for the occasion.
The concept behind "In Tune" is to pair an iconic musician with a famous follower. As it turns out, the 62-year-old Simon, a two-time Rock Hall inductee, and 26-year-old Grammy Award winner Mayer share a mutual admiration.
Mayer "seems like a songwriter to me," Simon tells VH1. "I know the type."
Simon has "a wonderful sadness" running throughout his music, Mayer says.
Tonight's episode closes with Simon, Mayer and bass-playing "In Tune" host Randy Jackson (of "American Idol" renown) cutting loose with a Simon classic: "It was late in the evening. . . ."
Was it ever.
Originally scheduled to start at 8 p.m., last month's concert taping didn't get under way until 3½ hours later. Bad weather had delayed Simon's flight to Cleveland.
Concertgoers cheered on cue. Off-camera, however, they stifled yawns. The taping concluded shortly before 2 a.m.
Simon, Mayer and Jackson had to run through "Late in the Evening" twice because they botched the ending the first time.
"What is it - 4 in the morning or 5?" Mayer joked in the wee hours.
"All artists have a bad dream that they're still playing at 4 in the morning," he said. "There's, like, four people left. One at a time they're like, 'I gotta go.' Meanwhile, we haven't played the first note because for some reason, everything's wrong. Plug the jack in and the string breaks, then put the microphone up and the guitar falls.
"You ever had those dreams?" Mayer asked Simon.
"No," Simon deadpanned. "I've had that reality."
Between tunes, Jackson spoke to Simon and Mayer about the art of songwriting, their influences and other topics.
Simon said his favorite rock 'n' roll record is Elvis Presley's "Mystery Train." Mayer copped to a serious childhood obsession with Michael J. Fox.
Left alongside "Wartime Prayers" on the cutting-room floor was footage of Simon and Mayer serenading the Rock Hall crowd with solo renditions of "American Tune" and "Clarity," respectively.
VH1 plans to shoot three more "In Tune" shows at the Rock Hall, with the next taping likely to be in the fall. Artists for those episodes have not been announced. The series is sponsored by Baileys, the cream liqueur.