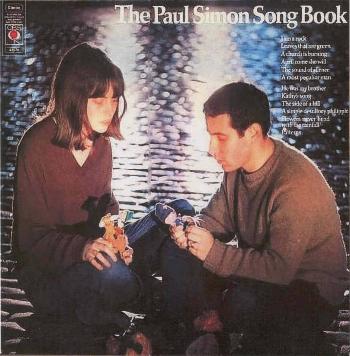 Paul Simon - Songbook
Unreleased and Bonus Tracks - 3BR Records - CD-R1

Track List:

I Am a Rock
Leaves That Are Green
A Church Is Burning
April Come She Will
The Sound of Silence
A Most Peculiar Man
He Was My Brother
Kathy's Song
The Side of a Hill
A Simple Disultory Philippic
Flowers Never Bend With the Rainfall
Patterns
Carlos Dominquez 1964 UK B Side (pseudonym Jerry Landis)
Mrs. Robinson
Patterns
A Poem For the Underground Wall
Old Friends
Bridge Over Troubled Water
Comments: This is a fascinating collection of what essentially are demos of later Simon and Garfunkel music. Paul recorded this album in a few hours in 1965, using one microphone in a small London studio. Many of the songs became S&G songs, but a few ("A Church Is Burning," "The Side Of A Hill," and an early version of "A Simple Desultory Philippic") never made it past this stage. Paul tries to act hip in his introductions to the songs, but what matters is the music, which is wonderful. This album isn't available on CD, save for "Leaves That Are Green," which appears on '1964/1993'. Released originally on CBS Records UK in 1965 and still in print through the mid 1970s, it was briefly released in the USA in the early 1980s as part of a vinyl box set, "The Paul Simon Collection", but later withdrawn.

This remains a very rare piece, and kudos to the Professor for finding these great audio sources for the tracks and reconstructing it for CD.

UPDATE: February 2004: Hell has frozen over! The official release is imminent! Let's hope the 3BR release prodded the label into action. About F*&$! time.

UPDATE: April 2004: Comments from a friend: "Now that Columbia/Legacy has done their own version - their own sub-par version - of the Paul Simon Songbook, I've re-done the art, ... [the 3BR version] ... is far better sounding than the official version ... Columbia was so fucking lazy that they used a shitty scan of a bootleg version! Hope you can add this up when you can ... the 3BR version is THE version..."

UPDATE: May 2004: The Professor, having analyzed the official Sony version, has gone back to this, decided his better-than-Sony version wasn't good enough, and has further tweaked the album, fixed some errors in his original master, and - to help consumers have the complete and definitive version - added the so-called bonus tracks from Sony's version.

So now, the 3BR is the most complete and best-sounding version. This will be noted as 3BR 191-B, with new back cover art to include all tracks.

Trade 'em with your friends...from your friends at 3BR...