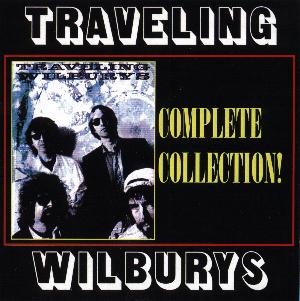 Traveling Wilburys - the Complete Collection
Rarities and Outtakes - Tendolar 020/021 - SB 6

Disc 1:

Handle With Care
Dirty World
Rattled
Last Night
Congratulations
Heading for the Light
End of the Line
Every Little Thing
End of the Line
Handle With Care
Walk Away
Crying
Don't Treat Me Like a Stranger
The Troubler
Heartbreak Radio
In Dreams
You Got it
Dream Baby
Under the Read Sky
Disc 2:

New Blue Moon
Nobody's Child
Theme For Something Really Important
Runaway
Maxine
Like a Ship
Runaway
I'm Gone
Born in Time
Borderline
Silence
She's My Baby
Inside Out
If You Belonged to Me
The Devil's Busy
Seven Deadly Sins
Poor House
Where Were You Last Night
Cool Dry Place
New Blue Moon
You Took My Breath Away
Wilbury Twist
Cheer Down
Track Credits: Disc 1: Tracks 1-7, Demos for first LP; Tracks 8-10, Extended versions; Tracks 11-14, Roy Orbison solo sessions; Tracks 15-18, Orbison with Wilburys; Track 19, Outtake. Disc 2: Tracks 1-3, outtakes; Tracks 4-7, Del Shannon sessions; Tracks 8-11, Tracks from 3rd LP; Tracks 12-22, Demos for Volume 3; Track 23, only on deleted Harrison compilation.
Comments: A must have compilation for any fan of the Wilburys. Fully lives up to its billing as a "Complete Collection", with tons of demos, outtakes, and rare tracks. Of special note is a blistering version of "Runaway" with a red hot rockabilly guitar solo - who is this?