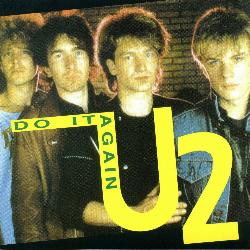 U2 - Do It Again
Recorded live in Chicago, Illinois on April 29, 1987 - Rarities Special - RS 9209 - sb6

Track List:

1) I Will Follow
2) Trip Through Your Wires
3) I Still Haven't Found
4) Bullet the Blue Sky
5) Running to Stand Still
6) In God's Country
7) Sunday Bloody Sunday
8) Bad
9) October
10) Spring Hill Mining Disaster
11) New Year's Day
12) Pride
13) Mothers of the Disappeared
14) With Or Without You


Note: Good show! The crowd is REALLY pumped up. Bono grows a little frustrated with the boisterous crowd when he begins "Spring Hill Mining Disaster", saying "Shut Up for a second - stop whistling - this is U2, not the Beatles!." In "In the Name Of Love", Bono says that in the last tour, four or five dates had really stood out that he remembered: "I remember Chicago - for two reasons. First, U2 played really well that night. Second - you were SO noisy!"