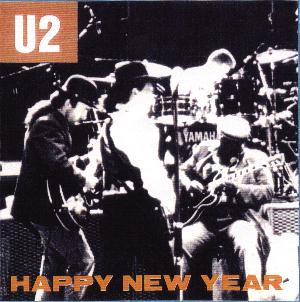 U2 - Happy New Year
The Point - January 1, 1990 - Tendolar 17B - SB 6

Disc 1:

Intro
Where the Streets Have No Name
I Will Follow
I Still Haven't Found What I Am Looking For
Exodus
MLK
One Three Hill
Gloria
God Part II
Desire
All Along the Watchtower
All I Want is You
Bad
Van Dieman's Land
Star Spangled Banner
Bullet the Blue Sky
Running to Stand Still
Dirty Old Town
The Times They Are a Changin'
New Year's Day
Pride
Disc 2:

Intro
Party Girl
Angel of Harlem
When Love Comes to Town
Love Rescue Me
All Along the Watchtower
Sunday Bloody Sunday
Out of Control
People Get Ready
Trip Through Your Wires
Silver and Gold
Helter Skelter
Help
Pride
Comments: What a performance - join U2 as they bring in the new decade of the 1990s with thousands of their fans at a concert that begins at the stroke of midnight. During the opening strains of "Where the Streets Have No Name" the crowd counts down to the new year, the band erupting into full swing as the clock strikes midnight. A great, high energy set follows, capped by a thunderous encore of "Angel of Harlem" with B.B. King's band, and "When Love Comes to Town" with B.B. himself, and then a sweet finale of Bob Dylan's "Love Rescue Me."
Filler on Disc 2 is assumed to be the U2 concert held in San Francisco, California that was partially documented in the Phil Joanou film "Rattle and Hum". However, it's a different mix than that used in the film, in this case a true soundboard recording, with the only crowd noise present in bleed through on the vocal and instrument mics. However, this does not seem to be a raw, unedited recording of the concert, as Bono's 'graffiti' incident as documented in the film has been seamlessly removed from "All Along the Watchtower". Things just about get out of control when Bono singles out someone in the audience with what he sees as a Sean Finn T-Shirt in "Sunday Bloody Sunday", and goes on a rant similar to the one documented in "Rattle and Hum". It's fortunate that the wearer of the offending shirt wasn't lynched by the crowd! Bono does add some levity to the show, quipping that as the band were playing in the downtown business district, that they are in fact raising money in a telethon for a "save the yuppies" benefit, and points out that he is wearing a hat, which he will be "passing around later to take donations". Following a rare performance of "Out of Control", Bono introduces a great version of the Curtis Mayfield classic, "People Get Ready", by saying "... and speaking of God ... this is a song he co-wrote with Curtis Mayfield ... (crowd laughter) ... don't you know, all the best songs are co-written with God?". After a cover of the cheery Beatle classic "Help", the band finish up their set with a driving version of "Pride".
Two discs, both cram-packed with good music. Highly recommended.