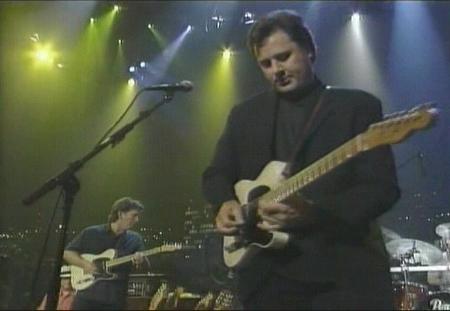 Vince Gill - Austin City Limits
Austin, Texas - May 27, 2003 - DVD-R1 - 55 min.
Comments: Music fads come and go. Country music superstar Vince Gill examines the flux of modern trends in his hit song "Next Big Thing," but this living legend is more than just a passing fad. With more than 30 years experience, Gill still knows how to put on a wild show while paying respect to country music's roots.

Vince Gill's musical journey has been paved with numerous Grammy Awards, almost 20 Country Music Association Awards including two for Entertainer of the Year and four for Song of the Year and dozens of top ten hits. Despite all the accolades, Gill still puts more importance on great musicianship than commercial success.

"The real amazing thing about all of this is I think I've maintained the mentality of a musician throughout it all, which I'm proudest of," Gill said. "… To me it's still about the love of music and sharing the love of music in whatever setting it is, whether it's playing in a small club and sitting in or playing in a big arena."

The intimate setting of an Austin City Limits taping is a little unusual for Gill as he's now able to fill big arenas with screaming fans. But the show and Gill have a long history together. Gill first appeared on Austin City Limits in 1978 as a member of the group Pure Prairie League, then made his solo debut in 1985.

"Vince has always been a perfect fit for Austin City Limits — a natural-born talent who has a unique style, original sound, and laid-back demeanor," said Austin City Limits Producer Terry Lickona. "He's one of a kind. It doesn't matter how many Grammys he's won or how many years he's hosted the Country Music Awards. Vince is the same person onstage or off, and for him it's all about the music."

Gill's focus on the music has changed little over the years, but that doesn't mean his songs haven't evolved. His newest release, Next Big Thing, features songs that mix incredible musicianship, modern themes and country traditions.

"I hit a pretty good creative place in my songwriting and kind of felt like I was writing some songs that were actually pretty reflective," Gill said. "I've never done much looking back in my songwriting, and two or three of these songs were that way. Kind of feeling the effects of time."

DVD-R1 direct from DigiSat. Recommended.