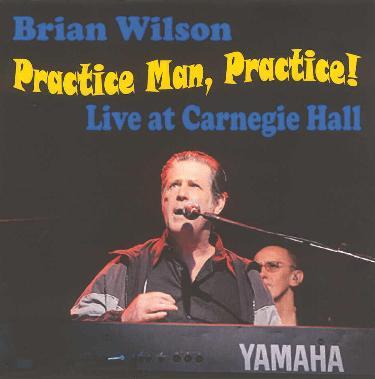 Front Cover
Back Cover
Brian Wilson - Practice Man, Practice!
New York, New York - October 12/13, 2004 - 3BR Entertainment - 3BR 1013 - SB 6
Disc 1:
And Your Dreams Come True
Surfer Girl
Row, Row, Row Your Boat
Hawaii
Add Some Music to Your Day
Good to my Baby
Please Let Me Wonder
Drive-In
You're Welcome
Sloop John B
God Only Knows
Soul Searching
Caifornia Girls
Disc 2:
Our Prayer/Gee
Heroes and Villans
Roll Plymouth Rock
Barnyard
Old Master Painter/You're My Sunshine
Cabin Essence
Wonderful
Song for Children
Child is the Father of Man
Surf's Up
I'm In Great Shape / I Wanna Be Around / Workshop
Vega-Tables
On a Holiday
Wind Chimes
Mrs. O'Leary's Cow
In Blue Hawaii
Good Vibrations
Do It Again
Fun, Fun, Fun
Love and Mercy
Recorded at NYC's Carnegie Hall on October 12-13, 2004 by Mark Linnett.
3BR Comments:
This set is one of those rarities...an officially recorded and mixed concert, done by the artist's own team.

During Brian Wilson's debut tour of the legendary "Smile" album, a few shows were officially recorded and filmed by Wilson's crew, and supervised and produced by Mark Linnett, the producer/engineer who has been responsible for the bulk of the Beach Boys remaster series as well as many of Wilson's recent live and studio solo discs.

This set was recorded at New York's Carnegie Hall and broadcast on NPR shortly after the performance, but as broadcast (and as here) was not the complete concert, edited for time. With Wilson having two live CD's and two live DVD's available, the real reason for this is "Smile" anyway.

The actual show was presented in two sets - the first began with the curtain rising for an "unplugged" segment of Wilson and his great band in semi-circle, doing acoustic versions of a number of Wilson/Beach Boys chestnuts, and later the band would take their places at their instruments for an electric set. Disc one of this set contains a nice selection of highlights from the first set - many of the missing songs are commonly available on Wilson's official live albums.

After the intermission, the curtain rose again with the "Smile" logo shining over the stage, and the Wilson band in their places, now including the Stockholm Strings and Horns who were engaged to complete the ensemble necessary to perform the complex and legendary "Smile". Unlike the casual and rocking first set, "Smile" found the band focused and driving, performing live music that in its day, could never have been done. Wilson's multi-instrumentalist band worked all the parts that the old Wrecking Crew had done, but with greater verve and wonder than before. Wilson himself was in the finest form of his touring career, his vocals strong and profound, and to those viewing the show, seeing him passionate about his greatest work finally brought to an audience. "Smile" is presented in its entirety, and a portion of the encore is also included.

As we hear on this set, the audience was more than pleased with this historic performance. Throughout the long "Smile" piece, the awe of the crowd is palpable. And as the piece concludes with the ORIGINAL version of "Good Vibrations", the triumph of the artist and the thrill of his audience, makes for a truly moving experience.

What makes this set important for collectors is two-fold. First, unlike most circulating tapes, this was a digital dub direct from the NPR tapes, not a dub of the radio broadcast or from the streaming audio of the website. Also, most of the occasional announcer interruptions have been skillfully edited out (except for the closing announcement). And finally, this is the only officially recorded true concert version of "Smile" we're likely to have - the upcoming official DVD is from a special performance on a Hollywood soundstage, as opposed to an actual public concert.

Complete audience recordings are plentiful from this tour. Wilson has an "official" but sanitized version coming in May. But to experience this historic concert, "Practice, Man" is the best version available anywhere.