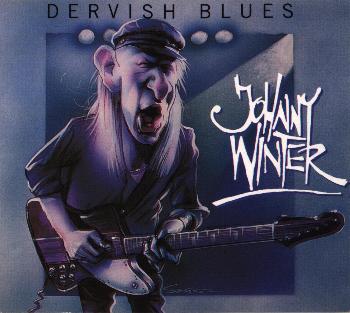 Johnny Winter - Dervish Blues
San Bernadino, Ca. - September 1975 - Tuff Bites TB 94.1007 - SB 5

Track List:

Rock and Roll People
Sweet Papa John
Roll With Me
Boney Moroney
Highway 61 Revisited
Jumpin' Jack Flash
Comments: From "Good times" (Oct 1994):

Tuff-bites presents a unique piece.
 
Recorded in superb sound quality 1975, we enjoy a gig loaded with energy. Johnny is playing
so fast, that it is difficult to follow it with two ears. 

While the live-CD labels permantly release stuff by the same
artists, with the exceptional guitarist Johnny Winter Tuff 
Bites presents a true rarity! Recorded in very best sound 
quality in 1975 in the USA, we enjoy an energy-loaded, 
captivating gig of the quartet (I'm nearly sure that the three
other musicians are the original McCoys), which serves us with 
a high-proofed mixture of rock and blues. Johnny plays so fast,
that it's hard to follow him with both of your ears - and the 
songs have lengths of 5 to 13 minutes. From the cover versions
it's Bob Dylan's "Highway 61 Revisited" that stands out, while
the original Stones version of "Jumping Jack Flash" can't be 
reached for eternity, IMO. Not only because there are only so 
less live-CDs items by Johnny Winter this release deserves 
special attention.

Rock and roll people, roll with it!