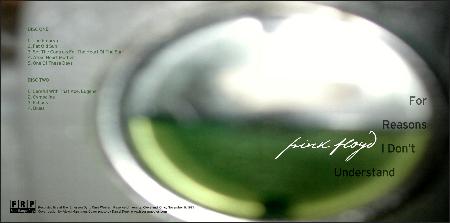 Front Cover
Back Cover
Pink Floyd - For Reasons I Don't Understand
Cleveland, Ohio - November 6, 1971 - Free Range Pigs - Aud 4
Disc 1:
The Embryo
Fat Old Sun
Set the Controls For the Heart of the Sun
Atom Heart Mother
One of These Days
Disc 2:
Careful With That Axe, Eugene
Cymbaline
Echoes
Blues
Recorded at the Emerson Gym, Case Wesleyan University. Further Review TBA.
Visitor Comments:
" I attended this concert w/ 2 of my pals. The 4th person couldn't go & we couldn't give away the ticket. "Who's Pink Floyd?" How far we've come! After the gig, we crossed the street to McDonald's and the band came in. We ate and talked and enjoyed each other's company. The next day we all had diarrhea. Thus my claim to fame!!" - Anon.