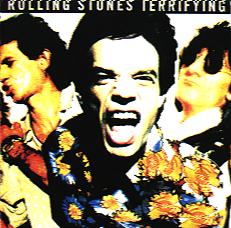 The Rolling Stones - Terrifying
Atlantic City, New Jersey - December 19, 1989 - Buccaneer - SB 3

Disc 1:

Continental Drift
Start Me Up
Bitch
Sad Sad Sad
Under Cover of the Night
Harlem Shuffle
Tumbling Dice
Miss You
Terrifying
Ruby Tuesday
Salt of the Earth
Rock and a Hard Place
Mixed Emotions
Honky Tonk Women
Midnight Rambler
Happy
Disc 2:

You Can't Always Get What You Want
Little Red Rooster
Boogie Chillin'
Can't Be Seen
Paint it, Black
2000 Light Years From Home
Sympathy For the Devil
Gimme Shelter
It's Only Rock and Roll
Brosn Sugar
Satisfaction
Jumpin' Jack Flash
Carmen
Comments:sourced from a high-generation analog source of the Pay Per View broadcast of the show, the only thing "Terrifying" about this release is the sound quality, which is inexcuably poor. The hiss level is nearly equal to that of the program material. AVOID.