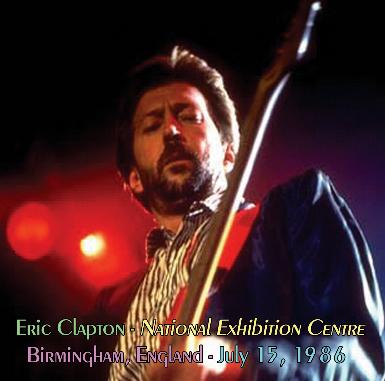 Eric Clapton - NEC Arena
Birmingham, England - July 15, 1986 - CD-R2 - Aud 5

Disc 1:

Crossroads
White Room
I Shot the Sheriff
Wanna Make Love to You
Run
Miss You
Same Old Blues
Tearing Us Apart
Holy Mother
Disc 2:

Behind the Mask
Badge
Let it Rain
In the Air Tonight
Cocaine
Layla
Sunshine of Your Love
Further On Up the Road
Comments: Another really nice recording directly from the taper's master. As many times as this performance has been released - both officially and not so officially, it's interesting to hear it again as an audience recording as it gives yet another perspective on a hot, and now legendary performance. CD-R2 direct from taper's master. Recommended.